WELCOME! 
Hello, my name is Peter Hlavin and I am JOURNEYMAN - American songwriter, visual artist, and executive producer based in the United States. Inspired by my 500-mile Camino de Santiago journey, Europe's most important pilgrimage, I have followed a path of creating immersive, journey-related artistic experiences that combine song, music, visual art, installations, and storytelling.   
The foundation for Journeyman's collection of contemporary works is titled "THE CAMINO PROJECT." This project is not only based on JOURNEYMAN's personal Camino experiences, but also shaped by Camino lore and the experiences of others from around the world who seek (dare) to journey.
NEWS FLASH!!!  
Laberinto del Camino laser etched into slate stone!
Laberinto del Camino is a uniquely-designed labyrinth recently installed in Palas de Rei, Spain. Journeyman's dream to create and build Laberinto del Camino (meaning, labyrinth of the Camino) was inspired by a song he wrote and produced by the same name... Laberinto del Camino (see performance below by Fernando Garcia). Check out the video clip below that showcases the laser etching of the Laberinto del Camino design into slate stone, a local material of Galicia, the region of Spain where Palas de Rei is located.
NEWS FLASH!!!
Laberinto del Camino to be included in popular Camino de Santiago guidebook...
One of the most popular Camino de Santiago guidebooks is "A Pilgrim's Guide to the Camino de Santiago (Camino Francés): St. Jean Pied de Port • Santiago de Compostela," written by John Brierley.
JOURNEYMAN is pleased to announce that LABERINTO del Camino, a uniquely-designed labyrinth recently installed in Palas de Rei, Spain and situated alongside the Camino Francés path, will be included as a "must see, must do" activity in the next edition of John Brierley's guidebook.
This reference book for travelers along Camino Francés is largely considered the holy grail of Camino de Santiago guidebooks. Spread the good word!
LABERINTO del CAMINO - Palas de Rei, Spain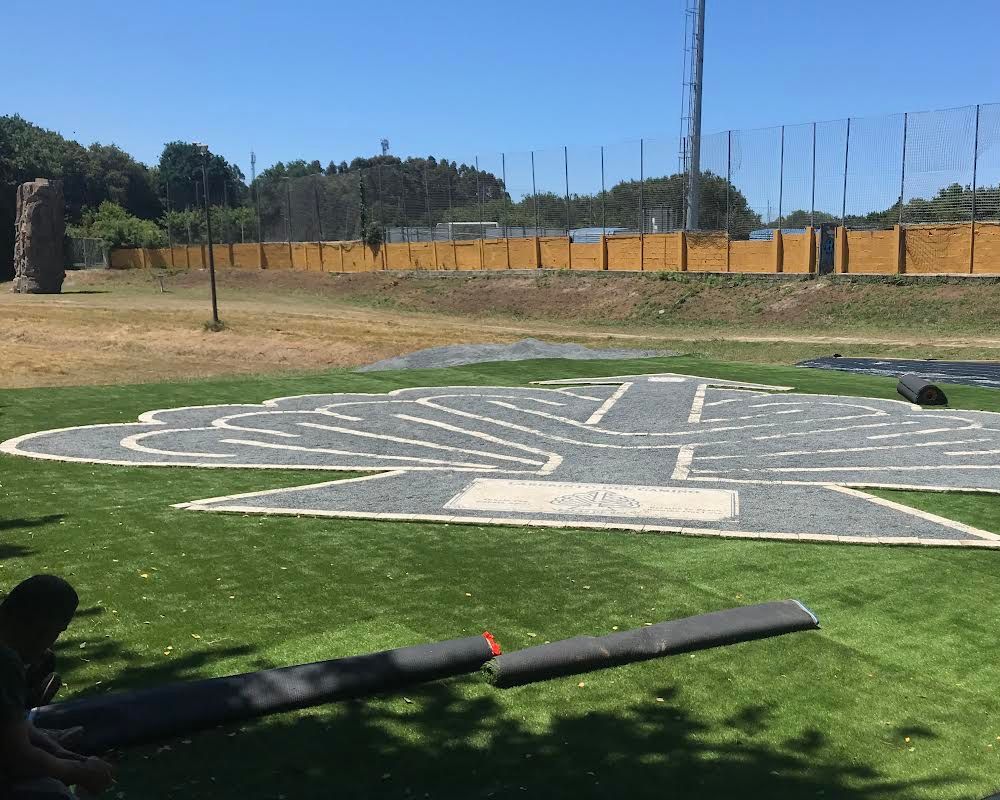 LABERINTO del CAMINO
Installation of synthetic grass
The village of Palas de Rei, Spain, a major overnight stopping point for those who walk Camino Frances, has begun initial landscaping for Laberinto del Camino. Doesn't it look great!
Thank you to Palas de Rei and the many volunteers working on this project.
Reminder: The Grand Opening of Laberinto del Camino is September 14, 2022, on the site of Laberinto del Camino, including live JOURNEYMAN band  performance and official dedication beginning at 7:00 PM (19:00 CET).
Hope to see you there! 
NEWS FLASH!!!
It's Official...
LABERINTO del CAMINO, a uniquely-designed labyrinth located alongside the Camino Frances path in Palas de Rei, Spain, is officially registered with the "World-Wide Labyrinth Locator," an Internet-based search engine for labyrinths located around the globe. Here is the link: 
https://labyrinthlocator.com/locate-a-labyrinth?action=locate&organization=&city=palas+de+rei&state=&postalcode=&country=Spain&radius=&submit=Search
Official coordinates: 42.872912° Latitude.; -7.857732° Longitude
You are invited to a FREE concert featuring Journeyman & The Templars
NEWS FLASH!!!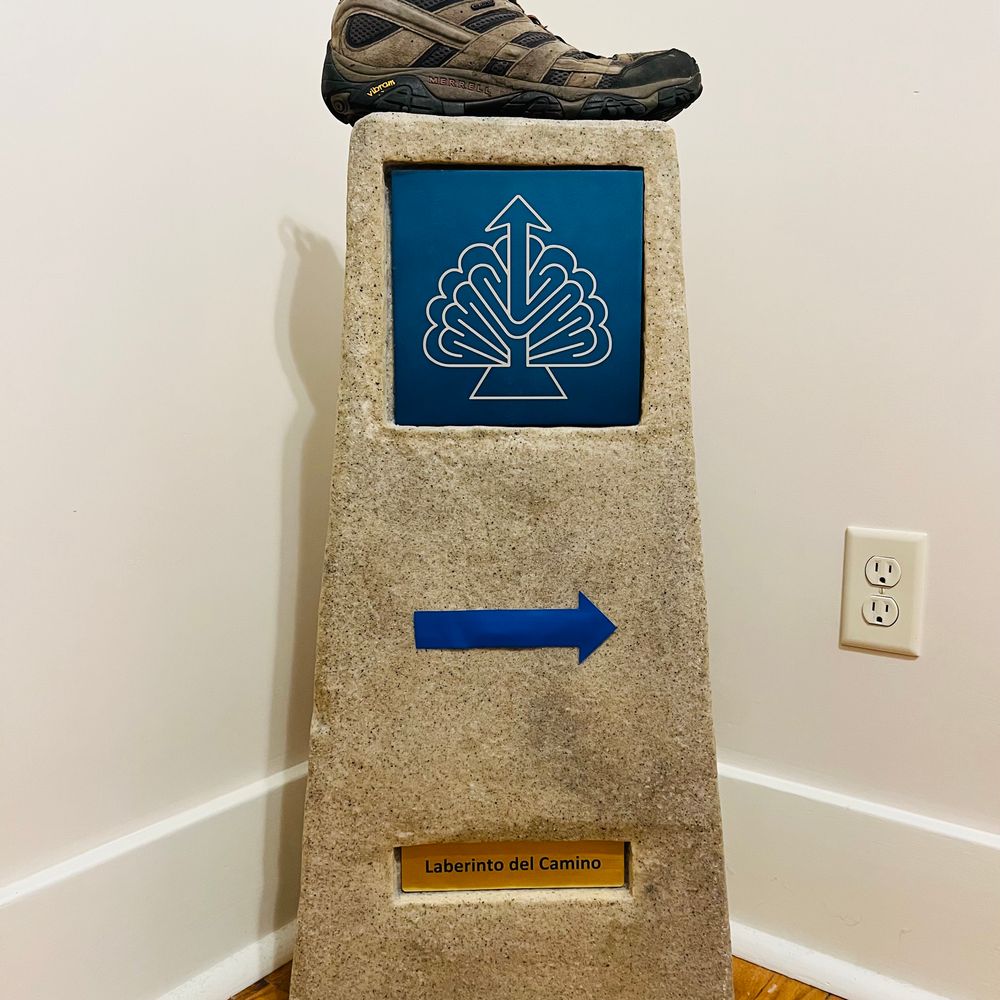 "CAMINO STONE" SPONSOR FOR SEPT. 14 CONCERT
MILESTONE MARKERS TO BE USED AS CONCERT STAGE PROPS
Along the various Camino de Santiago routes, one encounters granite milestone markers or Camino Stones. In Spain, these are referred to as Mojónes. These markers provide direction and distance to Santiago de Compostela, the final destination of all Camino de Santiago routes.
Inspired by his Camino in 2013 and thinking how great it would be to have a lightweight and durable artificial Camino Stone grace his garden, a man by the name of Tobias tuned an idea into a business. Tobias's company now manufactures lightweight and durable fiberglass replica Camino Stones.
Thinking that Camino Stones could serve as stage props for the upcoming JOURNEYMAN concert on the site of Laberinto del Camino, JOURNEYMAN asked Tobias if he would donate a Camino Stone to support the concert. Tobias enthusiastically responded with a "YES!"
So, let's hear a round of applause for Tobias's generosity. Additional information regarding these Camino Stones can be found at www.CaminoStone.com
Note: Journeyman was also inspired by these granite milestone markers and wrote a song titled "Mr. Mojón." See the "Songs" tab for a video performance of Mr. Mojón sung by L.A. vocalist, Kyle Guerrero.
LABERINTO del CAMINO... From Heaven (Drone) Above!!!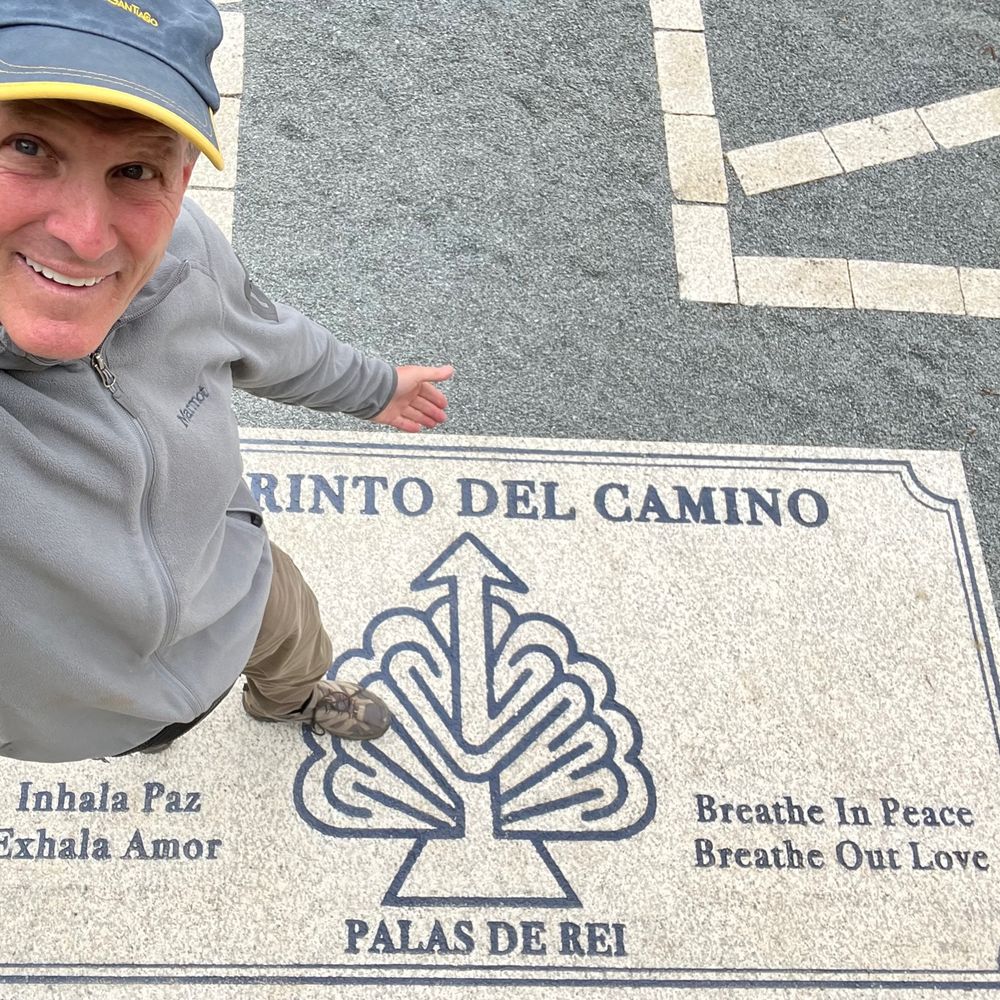 INTRODUCING "LABERINTO DEL CAMINO"
Installed May 7, 2002, Palas de Rei, Spain
A uniquely designed labyrinth located along the Camino Frances pilgrim path and located in Os Chacotes recreational park, Palas de Rei, Spain. Peter created and developed Laberinto del Camino. His song, Laberinto del Camino, and artwork goes along with this labyrinth. A trifecta!
Laberinto del Camino - Birth
Laberinto del Camino - The People
Journeyman Presents Album #2 (released February 2021)
JOURNEYMAN NEWSLETTER - FEBRUARY 2022