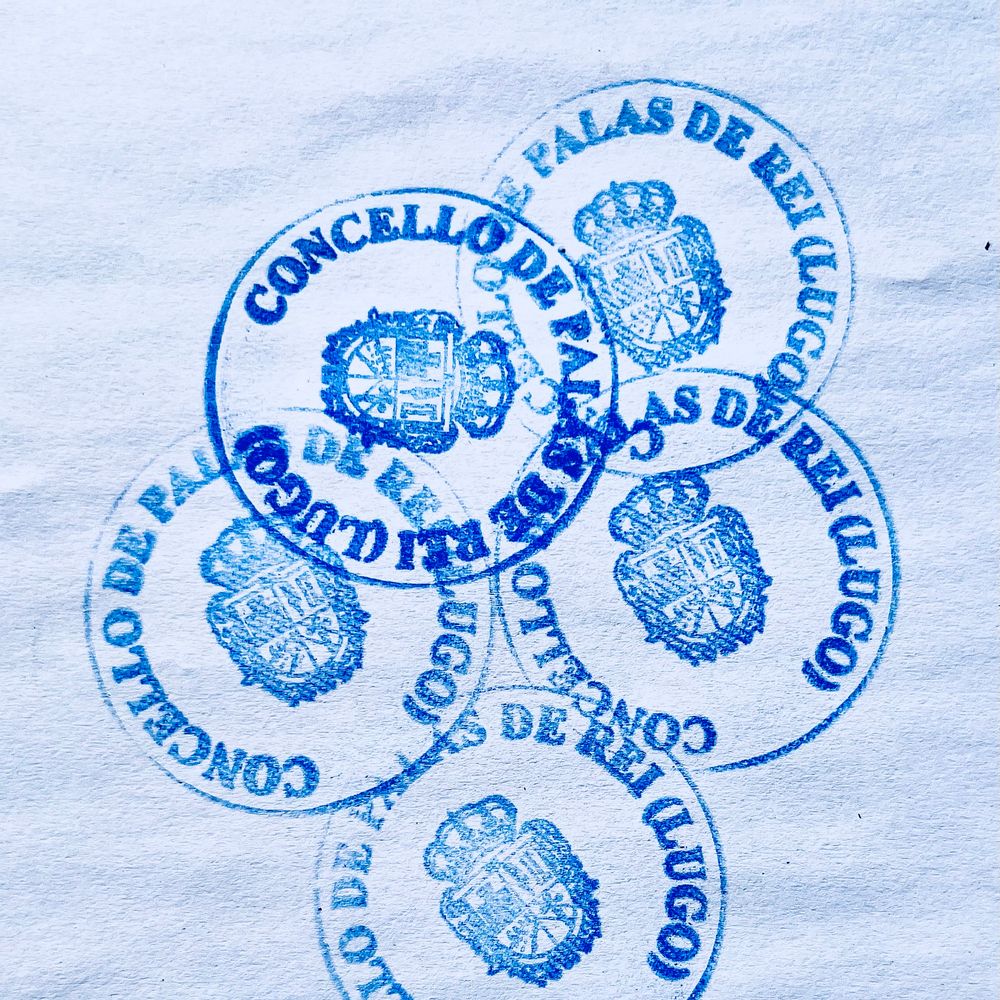 Palas de Rei, Spain
Stamp Montage - Official Camino Stamp for Pilgrim Passports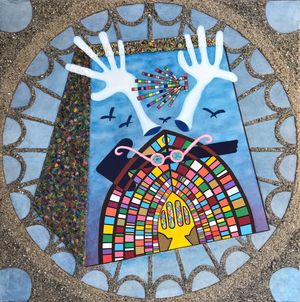 Journeyman Scores a Trifecta with "Artists for a Better World"
World Art Day 2021 - Four of Journeyman's original songs were perfomed live at World Art Day 2021 in Los Angeles, presented by Artists for a Better World. Original artwork of Jounreyman accompanied each song creating an integrated, immersive experience. Click on this link to view a short video clip of the event.
https://www.youtube.com/watch?v=h4GfGRzwaM8&ab_channel=ArtistsforaBetterWorld 
Gallery Showing - Journeyman's hit song, "Lady of the Way" (and associated artwork by the same name) is currently on display at the Artists for a Better World virutal gallery. Click on the link below to see view the gallery (scroll down about 70% of the page to see Journeyman artwork and song). 
https://www.artistsforabetterworld.art/world-art-day/ 
The Way to Happiness - Journeyman's  "Lady of the Way" painting was chosen to grace the cover of AFABW's "The Way to Happiness" educational booklet.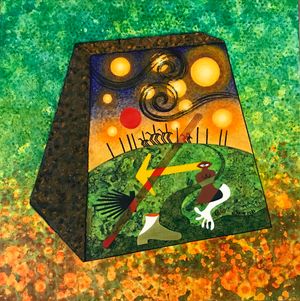 "Camino Project" Artwork (Finished and Initial Renderings)
Immersive Experience
These paintings and renderings (drafts)  serve as the foundation to Journeyman's "Camino Project." It is anticpated that there will be a collection of 14 paintings, each tied to/connected with an original song written and produced by Journeyman. It is Journeyman's vision to present these completed pieces of artwork and songs in immersive exhibitions. Stay tuned for some upcoming and exciting news relating to Journeyman's groundbreaking exhibition.
Note: The painting "Color Me Blue" (bottom left)) was painted LIVE at a recent Journeyman concert while Journeyman songs were being performed LIVE.
Artwork Created Prior to Journeyman
These paintings are from various periods in Journeyman's life. Other than a couple of courses in drawing and painting taken in the evenings at School of the Art Institure of Chicago, Journeyman is a self-taught artist.
The silver leaf on acrylic painting Journeyman is standing next to is an award-winning painting of the National Art Museum of Sports (NAMOS). This painting was acquired by the National Collegiate Association of Athletics (NCAA) and is displayed at its coorporate headquarters located in Indianapolis, IN.
The higher jumper in red sweat pants was painted by Journeyman on his bedroom wall during his freshman year in high school. The lion's head, know as Maahes, is an African mask that Journeyman created in eighth grade art class and refurbished in 2020.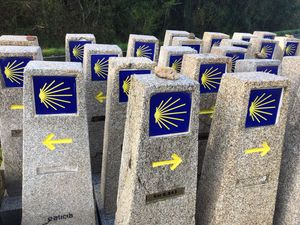 CaminoArt
JOURNEYMAN's "CaminoArt" is based on milestone markers encountered along the way on all Camino routes.  These weathered and grey stone markers are often referred to as "bollards" or "mojónes." 
Milestone markers are placed strategically along the Camino, usually at crossroads and junctions, where you may scratch your head wondering which way to go.  JOURNEYMAN's songs "Mister Mojón," "Along The Way," and "Signs" mention these prominent milestone markers.
The primary purpose of each stone marker is to provide direction and distance.  Direction is provided by a yellow arrow pointing to the path travelers are to follow.  Distance (in kilometers) to Santiago de Compostela is displayed at the bottom of marker.
Near the top of each milestone marker is an embedded tile displaying the Camino's primary symbol, the scallop shell.  In the Galicia Region, the fingers (or rays) of the scallop shell point towards Santiago de Compostela.  Interestingly, in other regions of Spain, the heel of the scallop shell points towards Santiago de Compostela.  Confusing?  You bet!
JOURNEYMAN's CaminoArt was created for a mini-Camino hosted by Santiago de Compostela Catholic Church, Lake Forest California.  This church is believed to be the only church in the world that shares the same name as the Cathedral de Santiago de Compostela, Spain.  JOURNEYMAN constructed and painted 24 bollards.  These bollards were placed alongside the mini-Camino trail.
The pictures of the grey bollards at the bottom of the page are real life examples of milestone markers encountered on the Camino.
Last, a thank you to Pilgrims Linda Gomez and Priscilla Brown who provided significant support (i.e., labor) during the bollard construction process.