JOURNEYMAN, CAMINO PILGRIMS & PALAS DE REI 
CELEBRATE THE ONE-YEAR ANNIVERSARY OF LABERINTO DEL CAMINO 
May 7, 2023, marked the one-year anniversary of the installation of Laberinto del Camino along a famous Camino de Santiago path in Spain known as Camino Francés.  And with this purpose in mind, JOURNEYMAN threw two celebratory one-year anniversary parties.
Sunday, May 7 - Hundreds of pilgrims joined JOURNEYMAN on the Camino path as three professional dancers, one Galician bagpipe player, and 3-piece local band entertained the crowd consisting of Camino pilgrims and Palas de Rei community members. Of course, JOURNEYMAN's songs were played at this rockin' event while attendees enjoyed food and drink. Dozens of pilgrims walked over to the labyrinth, Laberinto del Camino, while the dancers danced on a 6 meter x 6 meter canvas replica of Laberinto del Camino, mesmerizing all present. 
Saturday, May 6 - Dozens of pilgrims and Palas de Rei locals enjoyed the music of Journeyman and 2-piece local band at the Palas de Rei village pavilion. A "coloring station" was erected whereby kids and adults could color the design of Laberinto del Camino, the labyrinth located in Os Chacotes Park, Palas de Rei. All crayon drawings were subsequently posted on trees at the May 7 event (above). The afternoon highlight was professional dancer, Milagros, dancing to JOURNEYMAN music on a 6 meter x 6 meter replica of the labyrinth. Not only did she dance magnificently, but also she "painted" the labyrinth with her feet. That is, Milagros danced on the canvas to JOURNEYMAN'S "Color My Camino" song with pink, green, blue, and yellow acrylic paint smeared on her feet. AMAZING!
Shout Outs - This event would not have been possible without the efforts of a multitude of people.
Divina A. - Concello de Palas de Rei, Culture Department.

Jacobo C. - Translator (Spanish/English) extraordinaire and emerging business manager.

Milagros B., Alexia P, and Carlos B. - Amazing interpretative/contemporary dancers.

Suso A. - Exceptional bagpipe player from Melide.

Manuel E.B., Maria E., Lua A. - Palas de Rei local band, son

á

mbulum

Santiago - Proprietor of Cafe A Morriña, Palas de Rei, and caterer of all food/beverages.

Alan R. and Helen R. - Camino pilgrims who lent us electricity from their RV to power the band.

Padre Terry - A jack-of-all trades helping hand as a pilgrim.
Laberinto del Camino - Labyrinth Colorings
 DO YOU BELIEVE IN MIRACLES?
Miracle #1 - The May 7 anniversary celebration of Laberinto del Camino was to begin at 2:00 pm along the Camino Frances path in Os Chacotes Park, Palas de Rei, Spain. About 1:30 pm I received a text from the local band hired for this event. The band requests an electrical outlet and power cord for their instruments. This is one 'punch list' item JOURNEYMAN completely forgot about. It was time to pray. 
Fortunately, I had arrived early to make the labyrinth nice and clean, as well as roll out the labyrinth design for a dancing exhibition. During my activities I struck up a conversation with a British gent, Alan R., who was sitting beside his Caravan (equivalent of an American Winnebago) awaiting the arrival of his pilgrim wife, Helen R. Sheepishly, I approached Alan and asked him if he had a source of electricity and a power cord. The answer was a resounding... YES! Miracle #1! 
Miracle #2 - Following this event I finished my Sarria to Santiago Camino. A 74-year old priest friend and I rented a car and made our way to the cliffs of Finisterre, the end of the world. Going down the cliff to the Atlantic Ocean was relatively easy, but going back up the cliff Padre struggled. And I was struggling helping him. Out of nowhere a man appears beside us and asks "Can I help you?" To my surprise, it was Alan R., the same guy I'd met one week earlier in Palas de Rei. Miracle #2!
Thank you, miracle worker, Alan!!!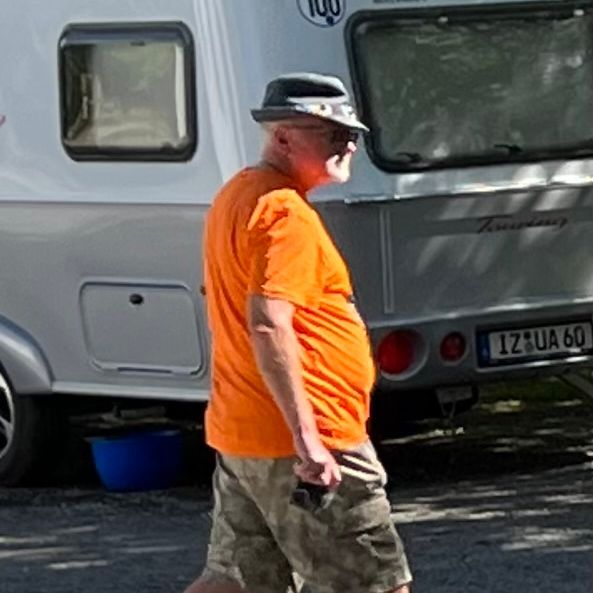 Introducing Alan R.
Miracle Worker Extraorinaire
Miracle #1: Palas de Rei, Spain
Miracle #2: Finesterre, Spain
LABERINTO del CAMINO
LABERINTO del CAMINO is a recent undertaking of Journeyman with the goal of creating an immersive experience revolving around the installation of a labyrinth in the park of a Spanish village.
Imagine this... You are walking along the Camino Francés route in Spain. You are deep in your thoughts walking in the shade of a forested "tree tunnel." Suddenly, the tree tunnel ends and you are immersed in sunshine. A beautiful, expansive park welcomes you to Palas de Rei.
As you continue your trek along the dark blue Camino Francés gravel path in Palas de Rei, you cannot help but look over your left shoulder in awe at this beautiful park under sugar blue skies. And what else do you see? LABERINTO del CAMINO.
Curious, you walk over to this labyrinth (not a maze) and feel a calling to walk this serpentine path. You "breathe in peace" as you begin your labyrinth journey. Upon exit of the labyrinth you "breathe out love." With renewed spirit and wind behind your back, you re-enter the Camino Francés path and continue your westward trek towards he town of Palas de Rein, only minutes away and serving as a respite for weary travelers.
Mission - JOURNEYMAN and the municipality of Palas de Rei are leading an effort to build a uniquely designed labyrinth - LABERINTO del CAMINO - in a park in Palas de Rei that straddles Camino Francés, the most famous of all Camino de Santiago routes (also referred to as "The Way"). Camino Francés is a 790km (500 mile) route that weaves through northern Spain from east to west. This route begins in the Pyrenees mountains of southwestern France and utimately leads travelers (pilgrims) to the tomb of Saint James, the apostle, located in the northwest corner of Spain. The tomb of Saint James is located at the Cathedral of Santiago de Compostela in the city of Santiago de Compostela, Spain, located approxumately 40 miles (65km) due west of Palas de Rei.
Note: Although different names in different languages, Saint James, Santiago, San Diego refer to the same person (apostle). 
Purpose - The pupose of building a labyrinth near Camino Francés in Spain is threefold: (1) provide pilgrims, labyrinth enthusiasts, and toursits yet another personally enriching experience along the Camino Francés path (i.e., an oasis for the heart and path for the soul), and (2) provide Palas de Rei with additional prominence and prestige along the Camino Frances route (i.e., a "must see" and "must do" actvity), and (3) a personal giveback by JOURNEYMAN to the Camino.
Location - This uniquely-designed labyrinth will be situated in a public park that straddles Camino Francés in the town of Palas de Rei, Spain. The Camino Francés route passes directly through Palas de Rei. The town is located approximately 65km (40 miles) east of the city/cathedral of Santiago de Compostela. Additionally, Palas de Rei is considered part of the "home stretch" on Camino Francés. That is, Palas de Rei is included witihn the final 100 km (60 miles) of Camino Francés, the minimum distance required to obatin a certificate of pilgrimage completion - the "Compostela." Vitually all pilgrims who walk Camino Francés, estimated at 165,000 annually, pass through Palas de Rei.  
Team - As with any venture, success is a function of the team involved in the project. JOURNEYMAN is working closely with Palas de Rei municipal officials and Paths of Peace, a renowned labyrinth-building organization and, of course, volunteers.
Volunteers - Volunteers to support the building of the labyrinth are welcomed. If interested in a volunteer role, please contact Journeyman at iamjourneyman17@gmail.com
Installation Date - The labyrinth installation date is set for MAY 7, 2022 - coincidentally, "World Labyrinth Day." Groundbreaking took place on November 29, 2021.
Fundraise Effort - Donations to support this effort are welcome and being accepted at www.GoFundMe.com (keywords Journeyman + Spain; Journeyman + labyrinth). All proceeds are directed to The Labyrinth Society, a 501(c)(3) charitable organization and administrator of donations received through GoFundMe.com. 
Endorsement - Laberinto del Camino is endorsed as a "Special Project" by The Labyrinth Society, the world's largest membership organization of labyrinth enthusiasts.     https://labyrinthsociety.org/