While 2020 has yet to reveal itslef, Journeyman has his sights set on two major events:
(1) Installation of Laberinto del Camino - the building of the Laberinto del Camino labyrinth in Palas de Rei, Spain, is scheduled for May 7, 2022. During the day Spanish guitarits will play live background music and Journeyman will stream songs from all his three albums. Following completion of the the labyrinth build, Journeyman will participate in the opening dedication and play several songs to cap off what is expected to be an exciting end to an action-packed day.
(2) Grand Opening of the Labeinto del Camino - On September 14, 2020 from 7:00 pm-9:00 pm Journeyman and his ensemble will play a treasure trove of Journeyman hits. During the intermission, a formal dedication of Laberinto del Camino will take place, including interpretive dance to the tunes of "Laberinto del Camino" and "Dancing Laberinto" (international debut/release). Coincidentally, September 14 coincides with an annual holiday in Palas de Rei.
So, if you seek to walk Camino Francés in 2022, please stop by Palas de Rei, Spain, on May 7 or September 14 for what are expected to be a very special moments.
Interested in hearing Laberinto del Camino? Check out this song by clicking on the "Songs" tab. Enjoy!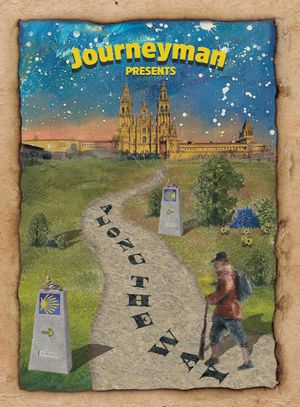 Did you miss the recent JOURNEYMAN CONCERT ?
Peter Hlavin (a.k.a. Journeyman) presented: Along the Way  on Saturday Feb 1, 2020, to a full house in Rancho Palos Verdes, CA.
The event took place at the Chapel Concert Hall, Mary and Joseph Retreat Center 
5300 Crest Road, Rancho Palos Verdes, CA 90275 
-------------------------
 Join the musical and visual experience as Journeyman tells stories of his 500-mile pilgrimage along Camino de Santiago in Spain.  
Sing along with the music industry's most elite talent as they perform original songs written by Journeyman.  
Featuring guest artists included Kyle Guerrero, Gilli Moon, John Moran, Maya Sh'Von, Marco Tulio, Jeff Walker and Jean-luc Kaberuka and BJ Watts. 
(Read about the artists)
Original Journeyman artwork
inspired by the songs was also presented  
STAY TUNED FOR THE NEXT SHOW ON THIS PAGE